Gerald Clark, a leading force in business development in New Haven's black community for half a century, died Sunday at the age of 93.
He died peacefully at his home in Hamden after a long illness, according to his family.
Clark founded and served as Executive Director of Greater New Haven Business & Professional Organization, a group dedicated to helping black-owned small businesses succeed. He was a founding director of the Dixwell Plaza Merchants Association, among many other civic responsibilities.
One of the most influential figures in the Greater New Haven community for over 50 years, Clark has helped many new and growing businesses throughout the state.
"Gerald Clark has inspired black business owners for generations. He was a leader who created opportunity for many," former mayor Toni Harp said Monday.
Probate judge and longtime civil rights advocate Clifton Graves Jr., the nephew of Clark's second wife, Yvonne, called Clark a ​"great man" and ​"emblematic figure" for his ​"promotion and development of African-American-owned businesses. An integral part of the New Haven economic development community, Uncle Gerald will be greatly missed, but his legacy will live on.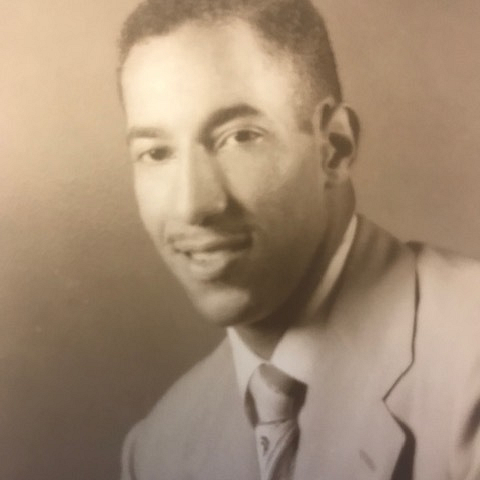 Gerald Clark was born on New Year's Day 1929 in Tuskegee, Alabama. He was the second child of William Arthur Clark, Dean of Education at Tuskegee Institute, and Olivia White Clark. He grew up on the campus of the Tuskegee Institute, where he and his family resided. He attended and graduated from high school at the Palmer Institute in Sedelia, North Carolina in 1946.
After high school, he attended Hampton Institute as a second-generation student and graduated with a BS graduated in 1950 with a major in business administration. While at the Hampton Institute, he met and married Mary Vaughn Clark. They moved to Tougaloo, Mississippi, where he worked at Tougaloo College. On leaving Tougaloo, he enlisted in the US Army and was stationed in Japan for a year. He was honorably discharged from active duty as Lieutenant Clark in 1952. He remained in the Army Reserve for the next 28 years, retiring as a Lieutenant Colonel.
In 1952, Gerald and his wife Mary moved back to New Haven, which was Mary's hometown, and had their first son. Gerald worked for Sargent's and Armstrong Rubber Company. In 1953, he began his graduate studies at New York University, earning a MBA degree in 1955.
After graduating, the family moved to Lorman, Mississippi, where he became a business manager, controller, and assistant professor at Alcorn A. & College M. Their second son was born in Mississippi.
In September 1959, after receiving threats from the Klu Klux Klan, Gerald moved his family back to New Haven. It took him five months, during which he applied for more than 500 positions before finding a job as a purchasing specialist with the United Illuminating Company.
Gerald Clark remained at user interface Company until 1965 when he resigned to open his own businesses: The Gerald S. Clark Insurance Agency and Acres Real Estate. While running his own businesses, he has also held the following positions: Administrative Assistant to the Director of Administration for Winchester-Western Division Olin; President, Executive Director at The Greater New Haven Business & Men's Professional Association (PNBNH); chairman of the Greater New Haven Business Development Corporation and managing director of Business Ventures, Inc.; senior consultant/corporate director/partner at Profiles, Inc.; President, Plaza Office Building, Inc.; executive director of the New Haven Business Resource Center, Inc.
In 1974, he married Yvonne M. Clark. Around 1986, Gerald became the principal owner of Spectrum Associates, a management consulting firm which he ran with his wife Yvonne.
He continued to be active in the community, and it was said ​"there is no part of the city of New Haven that has not been affected by his influence. Clark had served on the board of directors of the Chamber of Commerce, the board of directors of the Tennis Foundation of Connecticut, Science Park Development Corp., Chapel Square of New Haven, Inc., Minority Enterprise Small Business Investment Corp., the Airport Commission, the City-Wide School Building Committee, the New Haven Scholarship Fund, the NAACPthe Technology Investment Fund, Junior Achievement, Heritage Hall Development Corporation, Urban League of Greater New Haven, 5e District Democratic Club, Tennis Racquet Wielders Club, Hamden Black Coalition, Hamden Board of Education and Flood and Erosion Control board of Hamden.
Gerald's awards and accolades are many. He received an honorary doctorate from Albertus Magnus College and was inducted into the PNBNH Hall of Fame and the Junior Achievement Hall of Fame. In 2004, the New Haven Chamber of Commerce presented him with its highest honor, the Community Leadership Award. In 2005, he was voted House Man of the Year.
Gerald was an avid tennis player who won numerous trophies and at one point was ranked No. 1 senior amateur in New England and played tennis at the Senior Olympics. He loved attending the annual meeting SNET Classic Tournament/Volvo.
At the time of his death Gerald was a member of the Dixwell Avenue Congregational United Church of Christ. In the past, he also served on the finance board of Dixwell Avenue Congregational UDC.
Among his accomplishments, he was most proud of his children, grandchildren and great-grandchildren.
He was predeceased by his parents; his sister, Wilhelminia Sarari-Clark; his wife of 32 years, Yvonne Clark; his daughter-in-law, Muriel LaTanya Wylie (died August 2022); his daughter-in-law, Terry Clark, who died in January 2022; and his ex-wife, Mary Vaughn Clark. He is survived by his two sons, William A. Clark (Dr. Debra M. Bond) of Hamden and Gerald S. Clark, Jr. of Springfield, Mass.; his grandchildren, Maraya Olivia Clark of Richmond, Virginia, Allyssia Clark, Gerald Clark III., and Justin Clark of Springfield, Mass., Michael Riddick (Eneris) of Winston Salem, North Carolina and Marques Riddick (Betsy) of the Grand Cayman Islands; a niece, Dr. Hillary Weaver of Buffalo, NY; and former daughter-in-law, Lisa Byers of Springfield. He has 13 great-grandchildren, a great-niece and a great-nephew, and a host of other relatives and friends.