This summer was eagerly awaited by those who have put their international travel plans on hold for more than two years, but saved money during this time to splurge on vacations abroad. However, those who have already managed to make their trips tell us that planning, preparing and traveling is not completely hassle-free. "While international travel has grown significantly in recent months, the rules for international travel are not entirely clear. For example, few people know that most countries no longer require a report. Negative RT-PCR from travellers.Meanwhile, travelers want to know what travel documents are needed, registration process on Air Suvidha website for return to India, international travel rules for children etc. We tell travelers to read the rules of the country they intend to travel to, as this differs from country to country. If they are traveling with children, they should know if the destination has mandatory (COVID) testing for unvaccinated children," says Shad Siddiqui, founder of a travel agency that offers international vacation packages.
Travelers and trip planners share what to know if they're planning to visit an international destination soon and what to keep in mind for a hassle-free vacation.
"Read carefully about vaccination requirements, especially if you are traveling to Europe"

In February, it was reported that several countries in Europe would accept a person's vaccination certificate for travel purposes if the last dose was taken within a certain time frame before travel. According to Schengenvisainfo news, the European Commission has recommended that all European countries agree on a uniform acceptance period for vaccination certificates after concluding that two-dose vaccinations do not provide sufficient protection against the virus. He advised that the certificates remain valid for 270 days. While some countries immediately decided to follow this recommendation, others imposed a different period of validity. Austrian authorities, for example, announced that vaccination passes would only remain valid for a period of 180 days. This means that all people who completed their primary vaccination more than 180 days ago must receive a booster shot to keep their certificate valid before reaching Austria. Once the booster shot is received, the pass will remain valid for a total of 270 days. "You have to check the COVID-19 standards on the validity of the vaccination certificate. The number of days is counted from the day of your second dose of vaccination. One is required to get a booster injection if their certificate is older than the applicable term for a given country. For example, if you are traveling to Austria, you must get vaccinated if your vaccination certificate is more than 180 days old. You have to keep checking the validity of the vaccination certificate depending on the destination," explains Neha Pranay Nath, founder of a Delhi-based travel agency. She adds that she always recommends that her clients take an RT-PCR test before traveling (48 hours in advance). "Although most countries do not currently have this mandate, it is always advisable to keep it ready as travel rules may change even while you are travelling," says Neha. "Link your COVID certificate to your passport – this can be easily done online. Many people think it is a tedious process, but it is not and it is mandatory," adds Akash Rastogi, founder of a Gurgaon-based travel agency.
"Know the rules of vaccination for children"

If you are planning a vacation with children, check if the country you are traveling to requires a vaccination certificate for children, if not, is the RT-PCR test required. "It is something that is different for each country and since in India children as young as 11 or 12 years old have not been vaccinated, it should be checked if an RT-PCR test is necessary for them," explains Shad Siddiqui, founder of a travel agency specializing in international travel and vacation packages. Neha Pranay Nath, founder of a Delhi-based travel agency, adds that it is also advisable to keep the RT-PCR test ready when returning to India. "One should also check whether an RT-PCR test result is sufficient according to the guidelines of the country one is traveling to, or whether other requirements are also necessary. It is advisable to also read the rules of the airline. Call the airlines to find out if they have rules for children and if these rules differ according to age groups," says Nath.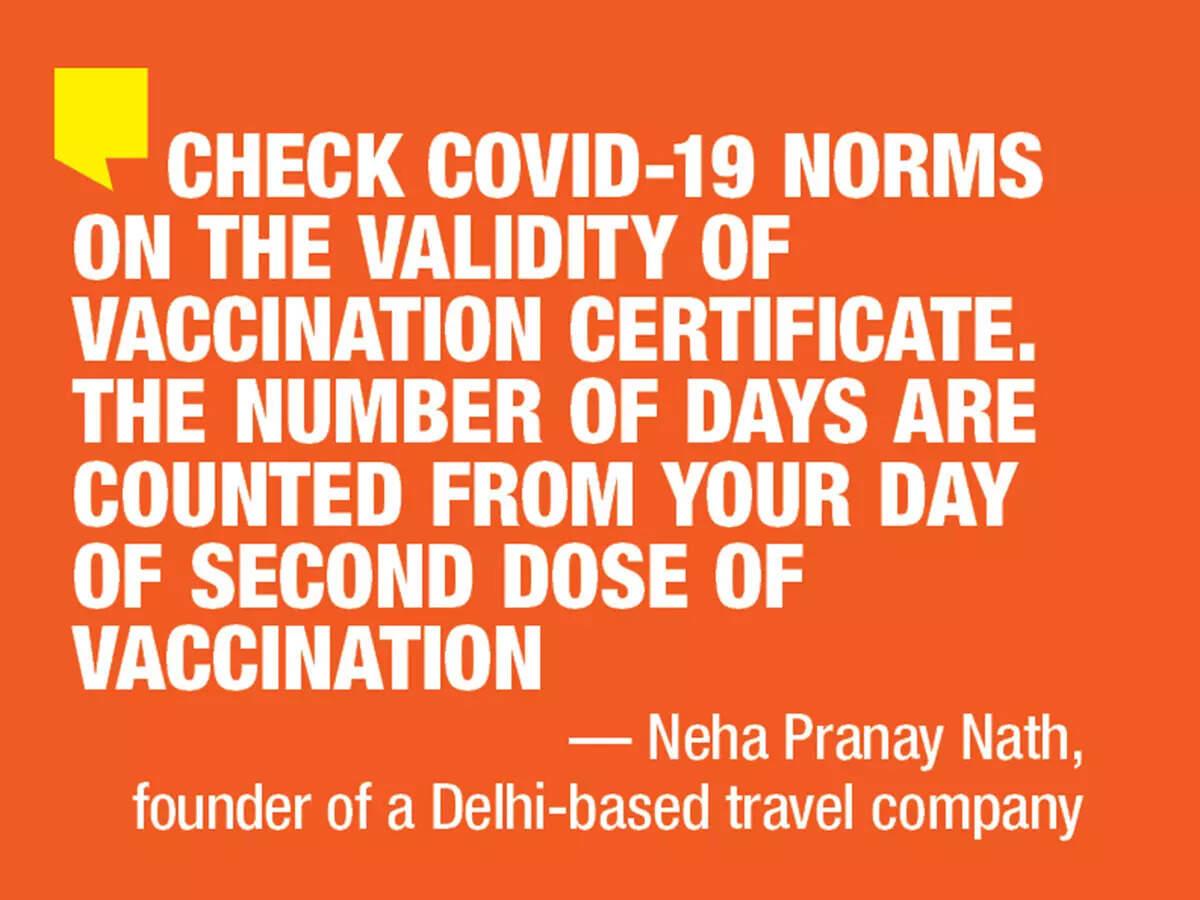 Better to travel with a stock of masks – from surgical to N95′
Although you may not need a mask at your destination, you do need it during your trip. It is always best to carry N95s as well as surgical masks as sometimes the mask rules are airline specific. Describing the ordeal one of his clients had to go through at an airport in Spain, Akash Rastogi, founder of a Gurgaon-based travel agency, said: "He was denied boarding because he was wearing a surgical mask at an airport in Spain. He was told that wearing an N95 mask was the airline's rule. After this incident, we often tell travelers that it is advisable to travel with a few extra masks – both surgical and N95. Geetika Surana, who returned last week from her holiday in Europe, says that during a trip to France she was asked to replace her surgical mask with N95. "In France, at the airport then, I was told to replace my surgical mask with N95. Fortunately, I had one in my bag, so it was not a problem," says Geetika.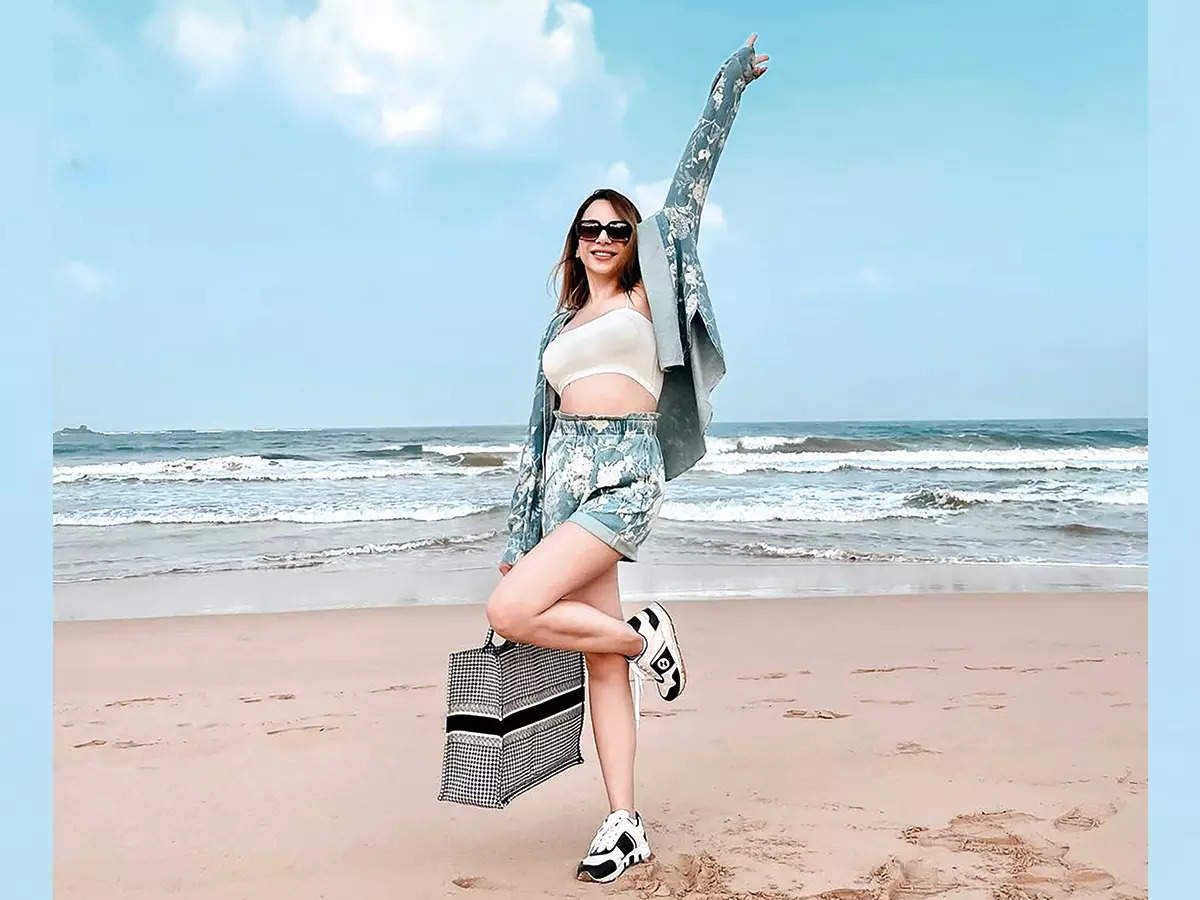 Nitibha Kaoul
In Europe, a unified vaccination record must be presented: Nitibha Kaul

Influencer and former Bigg Boss contestant Nitibha Kaul has traveled to destinations including Spain, Turkey, Singapore and the Netherlands over the past few months and says her biggest lesson has been to check COVID guidelines for Indian tourists in the country where she was traveling until a few hours before the trip. "COVID norms are changing so rapidly that you can't just rely on information you read a few days before you travel. Also read the details a few hours before your trip," says Nitibha. She adds: "I learned that in Europe, you have to show a unified vaccination card. So, every time you enter a restaurant, a bar or public transport, you have to show a vaccination card, which I didn't have, but I could convert my double vaccination certificate into a European passport. Registration on the Air Suvidha website and completion of the RTPCR test are also important before returning to India. For return to India, there is now an option to have RTPCR or double vaccination, while COVID test is only mandatory for those returning from a handful of countries. "Once I forgot to do my RTPCR test and had to rush a few hours before my flight back to India. Another time my self declaration form had a red unit with H (meaning high risk) and when I landed here I went for the COVID test which came back positive I had no symptoms but still had to be quarantined until my reports are negative," she said.