CLARK COUNTY — Clark Regional Airport has experienced substantial growth over the past six years in terms of revenue from leases, fuel sales revenue and landing fees.
Clark County Airport Board Chairman and Clarksville City Manager Kevin Baity shared the growth during a presentation to Clark County Commissioners at their meeting Thursday.
"We are the fourth busiest general aviation airport in the state of Indiana," Baity said.
The airport has seen an increase of more than 117% in rental income from 2015 to 2022, according to Baity, growing from income of $130,000 to more than $283,000.
The last six years have also seen an increase in fuel flow charges, or the tax applied to each gallon of gas sold by fixed operators (FBOs) at airports. In 2015, the airport earned $30,000 in revenue from fuel debit fees, rising to just under $74,000 in 2022.
In the past three years, Baity said the airport has started building tee hangars for rent to people to store their planes at the airport.
"We've seen a number of aircraft operators cross the river from Kentucky and migrate about 30 to 45 miles north because they want their aircraft based here," he said.
There are currently 21 hangars at the airport, along with a waiting list of 40 names looking to rent one.
The airport has multiple tenants on the property, including two FBOs, a flight school and aviation groups, according to Baity.
Landing fees allow them to collect money from aircraft operators that are not based at Clark Regional Airport. From 2015 to 2022, landing fees have increased by 130%, from $20,000 to $46,000.
Baity noted that the three busiest days for landing fees were for Thunder Over Louisville.
Over the next five years, as part of the State Division of Aviation's required improvement plan, Baity said they plan to add new entrance signage and security fencing, and possibly to build a third T-hangar of 20 units.
Indiana County Commissioners Association Award
Also at Thursday's meeting, two members of Clark County government were recognized by the Indiana Association of County Commissioners (IACC). Commissioner Jack Coffman and Road Manager Brian Dixon both received awards at the IACC's annual conference last December.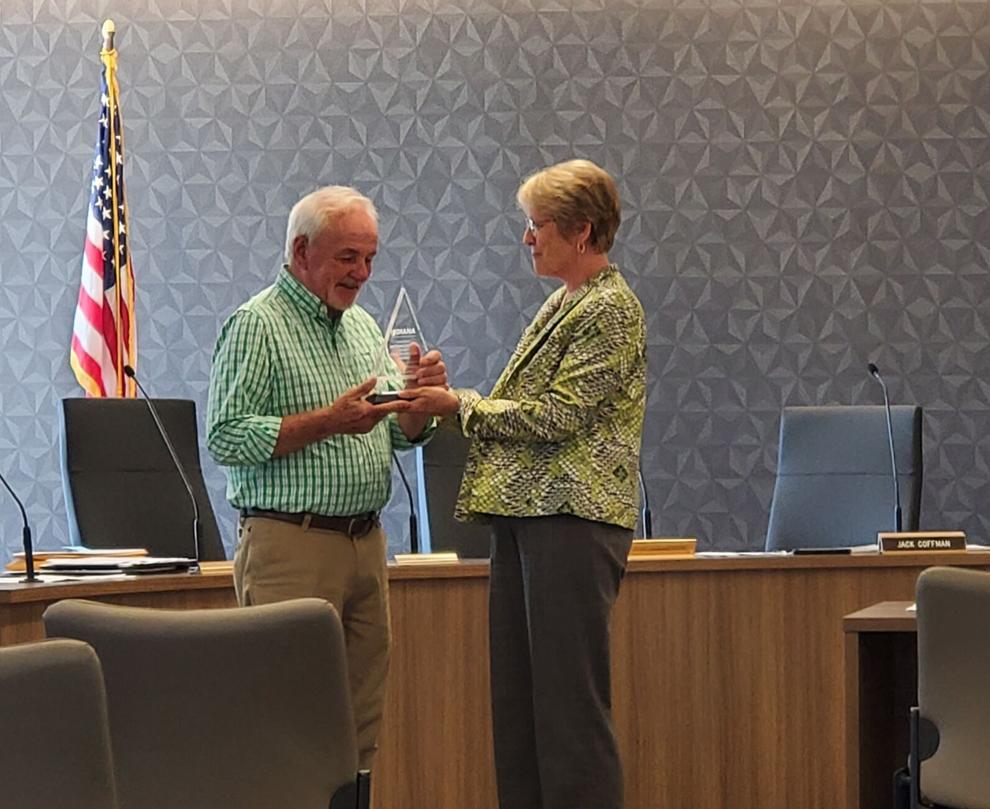 IACC Executive Director Stephanie Yager presented Coffman with the 2021 Southern District Distinguished County Commissioner of the Year Award.
Yager noted that Coffman has served the county as a commissioner since 2013, including numerous runs as chairman, and has been heavily involved with numerous councils.
His nomination said, "Through his guidance and leadership, many departments in Clark County have had a positive impact on his community. He always treats people with dignity and respect," Yager said.
Yager also presented Dixon with the 2021 County Outstanding Engineer of the Year award.
Dixon has been a licensed professional engineer since 1985, has served as a technical advisor to the Clark County Drainage Board since 2004, and became a highway engineer in 2013.
"Over the past eight years he has been responsible for increasing the overall sufficiency rating to 88 [out of 100] for his county bridges and has paved over 250 miles of roadway," Yager said.
Yager also mentioned that Dixon helped revise Clark County's subdivision design manual to better meet the needs of the county's continued growth.
"Residents stop and offer his praise. In adversity, he remains calm and offers easy-to-understand explanations whether the county is able to help or not. His county's elected officials look to him for advice, and he always delivers on his promises," Yager said.