Neighborhoods near airports are considered unique due to high demand and rapid growth which tends to rapidly increase the value of properties around them.
Along with social amenities, connectivity and proximity to many other important facilities, airports play a key role in enhancing and growing these areas.
Some of the benefits of living near an airport include accessibility, job opportunities, good quality of life, profitable land returns, and multiple investment opportunities.
In Kenya, for example, those who live close to Jomo Kenyatta International Airport (JKIA) enjoy a number of privileges such as ample water supply, uninterrupted power supply, good roads and tight security. .
Aircraft landing at Jomo Kenyatta International Airport (JKIA)
File
Given these factors, land in these neighborhoods tends to attract high rates. For example, buying land around Syokimau is very expensive.
According to a report by Knight Frank, Syokimau and Athi River were among the most profitable areas to invest in land.
But with the opportunities and benefits, there are limits to land use in these areas.
The Kenya Civil Aviation Authority (KCAA) has issued a number of strict guidelines that must be followed when building properties in areas near airports.
Before constructing a structure near airports, property owners and developers must seek permission from KCAA who inspect the project before issuing construction permission.
"No person shall erect any building or structure near an airfield without the permission of the Authority," the KCAA states on its website.
All structures erected in the area must not interfere with the proper operation of aircraft, whether landing or taking off.
"No mast or obstacle shall be erected on or near an airfield, where the obstacle may interfere with the safe operation of an aircraft or the use of the airfield.
"No object shall enter the obstacle limitation surface, without the written permission of the Authority, when the object may cause an increase in the obstacle clearance altitude or the height of a procedure instrument approach procedure or any associated visual circling procedure", KCAA guidelines. states.
Prior to construction, a developer must also pay a certain amount to the aviation authority along with the required supporting documents detailing all construction plans.
After submitting the bid, the aviation authority then evaluates the documents before allowing construction to start.
"Once considered against existing regulatory requirements, the authority should grant approval to allow the applicant to proceed with the erection or construction of the mast, structure or building. random inspection to confirm whether the granted approval is adhered to," the KCAA instructions state.
The aviation authorities further have full control of these properties, including businesses licensed to operate near the airport. Uncontrolled corporate cropping can lead to a security breach.
To ensure that all safety standards are maintained, KCAA regularly monitors compliance with these guidelines.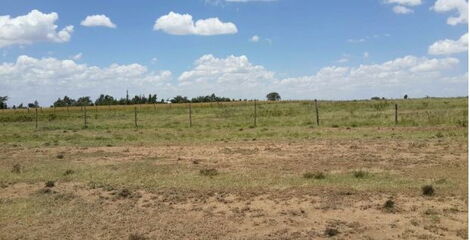 An image of a fenced farmland
Twitter